Regents of Frisia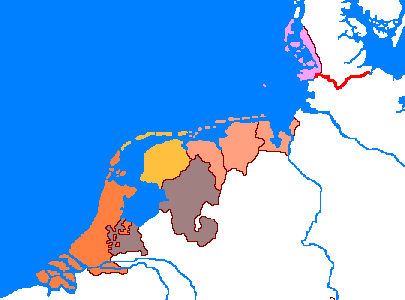 There is no modern Germanic people that can trace its history further back in time than the Frisians. The Romans subdued this tribe in 12 BC. The Frisians then rebelled in AD 28 and although they were defeated, they would later regain their independence in the reign of Emperor Claudius (41-54). Thereafter are the sources mostly quiet about the Frisians, but the existence of a King Finn can be proven by Anglo-Saxon poetry. It is however not until the 7th century when a Frisian kingdom (in opposition to the Franks) is clearly visible in the sources. The Franks conquered this kingdom in the 8th century and in the following century were the Frisians to suffer from the attacks by the Vikings.
While the Frisian kingdom had comprised most of the present Netherlands was the later region of Frisia much reduced. After 1100 was West Frisia not considered to be a part of Frisia. North Frisia had not been a part of the Frisian kingdom and was probably populated sometime during the period of 700-1000. The North Frisians never formed a political unit of their own, they belonged to Denmark/Schleswig all the time. Frisia Proper in medieval time therefore only included the eastern and middle part. This area was populated by free peasants who successfully resisted all attempts by feudal lords to subdue them, mainly the counts of Holland and the bishops of Utrecht. In the east, local chieftains created their own states (within the Holy Roman Empire) in the late Middle Age. Middle Frisia and Groningen was finally conquered by Imperial troops in 1498 and became thereafter a part of the Dutch republic, which was created 1581. Middle Frisia became the Dutch province of Friesland, which until 1747 and together with the province of Groningen was ruled by their own stadtholder.
Kingdom of Frisia
5th century
c. 600-630

c. 650-680
680-719
719-734
734-748
748-760
760-785

Finn (Folcwald's son)
Audulf

Aldgisl I
Radbod I (Radboud, Redbad)
Poppo (Bubo, Bobba)
Aldgisl II
Gundebold (Aldgisl III)
Radbod II (Radboud, Redbad)

Most of Frisia was conquered 734 by the Franks
East Frisia was conquered in the 780s


(734) -843
843-869
870-911
911-925
925- (1581)

Part of the Frankish kingdom
Part of Middle Francia (Lotharingia)
Part of East Francia (Germany)
Part of West Francia (France)
Part of Germany

.
Frisia

Viking Rulers and Gerulfingian Counts
(all under Frankish sovereignty)


826-844
c. 833-856
850-882
882-885
c. 885-896

Harald Klak (county of Rüstringen)
Gerulf I
Rorik (Hrörek)
Godfred (Haraldsson?)


Gerulf II

The Gerulfingian descendants establish the county of Holland
in West Frisia which after AD 1100 is no longer considered as
a part of Frisia. Conditions in the rest of Frisia are unclear,
but a county in that area emerge from about AD 1000

House of Brunswick
(the Brunonen dynasty)


c. 1000-1038
1038-1057
Liudolf
Bruno
1057-1068
Egbert I

1068-1088

Egbert II


Different Dynasties


1088-1099
1099-1101
1101
1101-1107
1107-1138

Koenraad van Zwaben (bishop of Utrecht)
Interregnum
Hendrik van Northeim
Interregnum
Hendrik van Zutphen


Ruled by the bishops of Utrecht


1138-1139
1139-1150
1150-1156
1156- (1178)

Andries van Cuijk
Hartbert van Bierum
Herman van Horne
Godfried van Rhenen

Frisia is 1165 transformed into a condominium which is ruled jointly
by the bishops of Utrecht and the counts of Holland. The joint rule
is however only theoretical since Frisia's central power collapsed
in the 12th century and local chieftains gained control.

Ruled by the Counts of Holland


1198-1203

Willem I
1203-1233
No central power
1233
Floris IV
1233-1337
No central power
1337-1345
Willem IV
1345-1358
No central power
1358-1401
Albrecht van Beieren
1401-1498
No central power

East Frisia with the exception of Groningen is hereby separated
from Middle Frisia and their local chieftains create their own states.
The rest of Frisia is conquered by Imperial troops in 1498

Stadtholders of Frisia


1498-1500

Albrecht van Saksen
1500-1505
Joris met de Baard
(the Bearded)
1500-1515
Hendrik de Vrome
(the Pious)
1515-1523
Karel van Egmond
(Groningen to 1536)


Lordship of Frisia


1515-1555


Karel (V)



1555-1581
Filips II
Frisia join the United Netherlands in 1581
Stadtholders of Friesland, Groningen and Drenthe
Like the other provinces in the Netherlands was Friesland (Middle Frisia) administrated by stadholders. When the Netherlands declared its independence in 1581 under the leadership of the house of Nassau-Orange, the stadtholders became the real rulers. They were however not more than two persons (and came from two branches of the house of Nassau). The most powerful stadtholder was he who ruled Holland (and several other provinces) while the other stadtholder who ruled Friesland was usually in charge of Groningen and Drenthe as well (the latter province was not considered to be a part of Frisia). This separate Frisian stadtholderdom would exist to 1747 when its stadtholder became regent over all provinces in the Netherlands.

Friesland
(united with Overijssel 1528-1584)


Groningen
(submitted to Karel V 1536)

1515-1518
1518-1521
1521-1540
1540-1548
1549-1568
1568-1572
1572-1574
1574-1576
1576-1581
1581-1594
1580-1584

Floris van Egmond
Willem van Roggendorff
Georg Schenck van Toutenburg
Maximiliaan van Egmond
Jan van Ligne
Karel van Brimeu
Gillis van Berlaymont
Caspar van Robles
George van Lalaing (in Spanish service)
Francisco Verdugo (in Spanish service)
United with Holland

1519-1522
1522-1530
1530-1536
1536
1536-1581
1581-1594
1594-1620
1620-1625
1625-1711
1711-1729
1729-

Cristoffel van Meurs
Jasper van Marwijck
Karel van Gelre
Ludolf Coenders
United with Friesland
Francisco Verdugo
United with Friesland
United with Holland
United with Friesland
Period without stadtholder
United with Friesland

1584-1620

Willem Lodewijk


Drenthe
(submitted to Karel V 1536)


1620-1632
Ernst Casimir
1632-1640
Hendrik Casimir I
1640-1664
Willem Frederik

1664-1696

Hendrik Casimir II

1536-1696
1696-1702
1702-1722
1722-.

United with Groningen
United with Holland
Period without stadtholder
United with Friesland
1696-1711
Johan Willem Friso
1711- (1751)

Willem (IV)



Willem IV became stadtholder of Holland 1747
and as a consequence of this were all Dutch provinces thereafter ruled by the same stadtholder
With the exception of Groningen (which was conquered 1498 by Imperial troops together with Middle Frisia) would East Frisia not be united with the future Dutch republic. Instead local chieftains created two East Frisian states, Ostfriesland and the small lordship of Jever. In the easternmost part (Wursten east of Elbe) would the Frisian peasants succeed in preserving their freedom until 1524 when their land was conquered by the archbishop of Bremen.
Ostfriesland

House of Tom Brok


Jever

House of Wimkrok


? - 1371
1371-1391
1391-1399
1391-1417
1417-1427

Keno I (the Elder)
Ocko I (the Elder)
Widzelt
Keno II (the Younger)
Ocko II (the Younger)

1350-1410
1410-1433
1433-1438
1438-1468
1468
1468-1488
1468-1511
1511-1517
1517-1536
1536-1575

Edo Wiemken I
Sibeth Papinga
Hajo Harlda
Tanno Düren
Hajo
Sibeth III (Sibethsburg)
Edo Wiemken II (Jever)
Christoph
Anna
Maria


House of Ukema


1427-1431

Focko


House Cirksena
(counts 1454-1654 and thereafter princes)

House of Oldenburg

? - 1400
1400-1450
1450-1466
1466-1491
1491-1528
1528
1528-1540
1540-1599
1599-1625
1625-1628
1628-1648
1648-1660
1660-1665
1665-1708
1708-1734
1734-1744

1744-1806
1807-1810
1810-1814
1815-1866
1866-1945
1945-

Edzard
Enno
Ulrich I
Enno I
Edzard I (the Great)
Ulrich II
Enno II
Edzard II
Enno III
Rudolf Christian
Ulrich III
Enno Ludwig
Georg Christian
Christian Eberhard
Georg Albrecht
Karl Edzard

Part of Prussia
Part of Holland
Part of France
Part of Hanover
Part of Prussia
Part of Niedersachsen

1575-1603

Johann XVI
1603-1667
Anton Günther


House of Anhalt-Zerbst


1667

Johann
1667-1718
Karl Wilhelm
1718-1742
Johann August
1742-1746
Johann Ludwig II
1742-1747
Christian August
1747-1793
Friedrich August
1793-1796
Katharina II (the Great)


House of Holstein-Gottorp-Romanov


1796-1801

Paul
1801-1807
Alexander I

1807-1810
1810-1813

Part of Holland
Part of France
1813-1818
Alexander I (restored)
1818-1945
1945-
Part of Oldenburg
Part of Niedersachsen